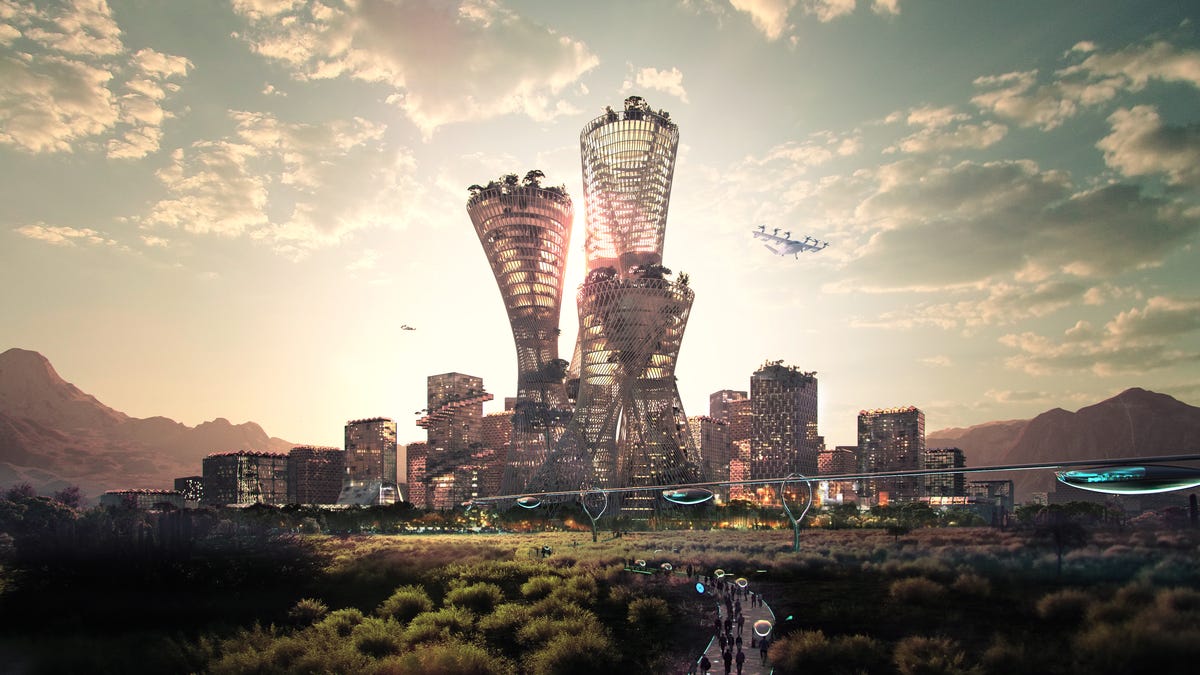 It's probably fair to say that when a typical resident hears some of the more strikingly novel details about what urban life will be like in the future, he or she is likely to take them with a grain or two of salt. One example that recently hit the CNN airwaves was a project for "Telosa"—a new kind of city in America.
The final vision is for a 5,000,000-resident city that would not only be completely eco-friendly and self-energized but one designed with a self-sustaining, drought-resistant water system (even if it winds up being built in the desert). Although its planners hope for the first phase to welcome 50,000 residents by 2030, the tentativeness of the missing geographical detail points out the speculative status of Telosa: its promoters are still scouting for locations.
Candidate states are Nevada, Utah, Idaho, Arizona, and "the Appalachian region."
This might cast doubt on the reality content of the project were it not for the world-class design team that is laying out Telosa's structural details. The architect—Bjarke Ingels—lends serious credibility to the project. The youthful Danish architect heads BIG—the 400-employee firm that is co-designing Google's California and London headquarters. BIG has been commissioned to design another (much smaller) 2,000-resident city for Toyota in the foothills of Mount Fuji.
BIG is dedicated to architecture that combines utility with enjoyment—"practicality with fun." To date, that philosophy has been most famously demonstrated in Europe, where the BIG-designed power plant in Copenhagen was constructed with a ski slope on top.
Telosa is the brainchild of Jet.com founder and former Walmart executive Marc Lore, a billionaire. He hopes to endow his city with a "transparent framework" which, among other novel characteristics, grants its residents with shared ownership: a "new model for society."
In addition to needing a location, Lore says the city will ultimately need $400 billion in funding. The cash will come from various sources, including "private investors, philanthropists, federal and state grants, and economic development subsidies." How that will gel with the city's shared ownership is yet to be determined.
Missouri residents won't be faulted if they postpone ordering up a moving van, at least for a while. Although Lore's promise of "the most open, most fair and most inclusive city in the world" may sound like a worthy goal, its architect's inclusion of "enjoyment" in his governing philosophy is just as appealing. Still, the most "fun" that's actually been realized to date is still the Danish architect's power plant with the ski slope on top. Moreover, its waste-heat tower is designed to emit smoke rings "to remind the public…" (it's not clear of what, exactly—but the idea sure does sound fun).
Today's down-to-earth real estate matters are where I come it. For help with those, call!