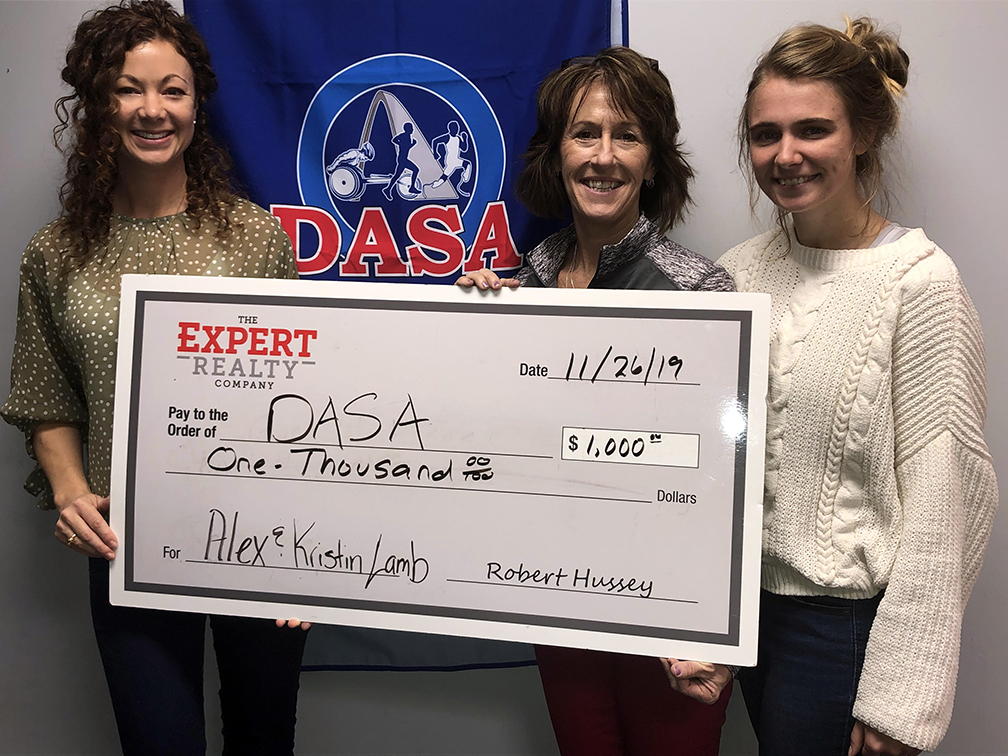 FOR IMMEDIATE RELEASE: Tuesday, Nov. 26, 2019
Media Contact: Heather Kemper-Hussey, p. 314.799.9292, e. hhussey@expertrealtyco.com, w. www.expert.realtor
PHOTO CAPTION: [LEFT TO RIGHT] On Tuesday, Nov. 26, 2019, The Expert Realty Company (Heather KemperHussey, Director of Public Relations) presented a $1000 donation check to DASA – Disabled Athlete Sports Association (Kelly Behlmann, Executive Director, and Lauren Krebs, Program Manager.)
Expert Realty Realtor Donates $1000 to DASA
ST. LOUIS METRO AREA – On Tuesday, Nov. 26, The Expert Realty Company presented a $1000 check to Disabled Athlete Sports Association. This organization was nominated to receive monthly donation by Expert Realty clients Alex & Kristin Lamb for their mission to help all of those who live with a physical, visual disability or deaf or hard of hearing to be given the opportunity to participate in sports and fitness activities designed to improve self-esteem, growth and well-being.
The Expert Realty Company, located in Lake Saint Louis, pledged to donate a portion of their monthly commission to a charity nominated by their clients.
"What an honor to give to an organization that is helping our community to improve their self-esteem and well-being," stated Rob Hussey, Owner of The Expert Realty Company. "Thank you, DASA, for all you do!"
The Expert Realty Company is a full-service real estate brokerage firm serving St. Louis metro area. Owner and Broker, Robert Hussey believes strongly in two things. First, providing expert realty service to their clients. And secondly, giving back to their community by supporting local charities. For more information, visit www.expert.realtor.
###