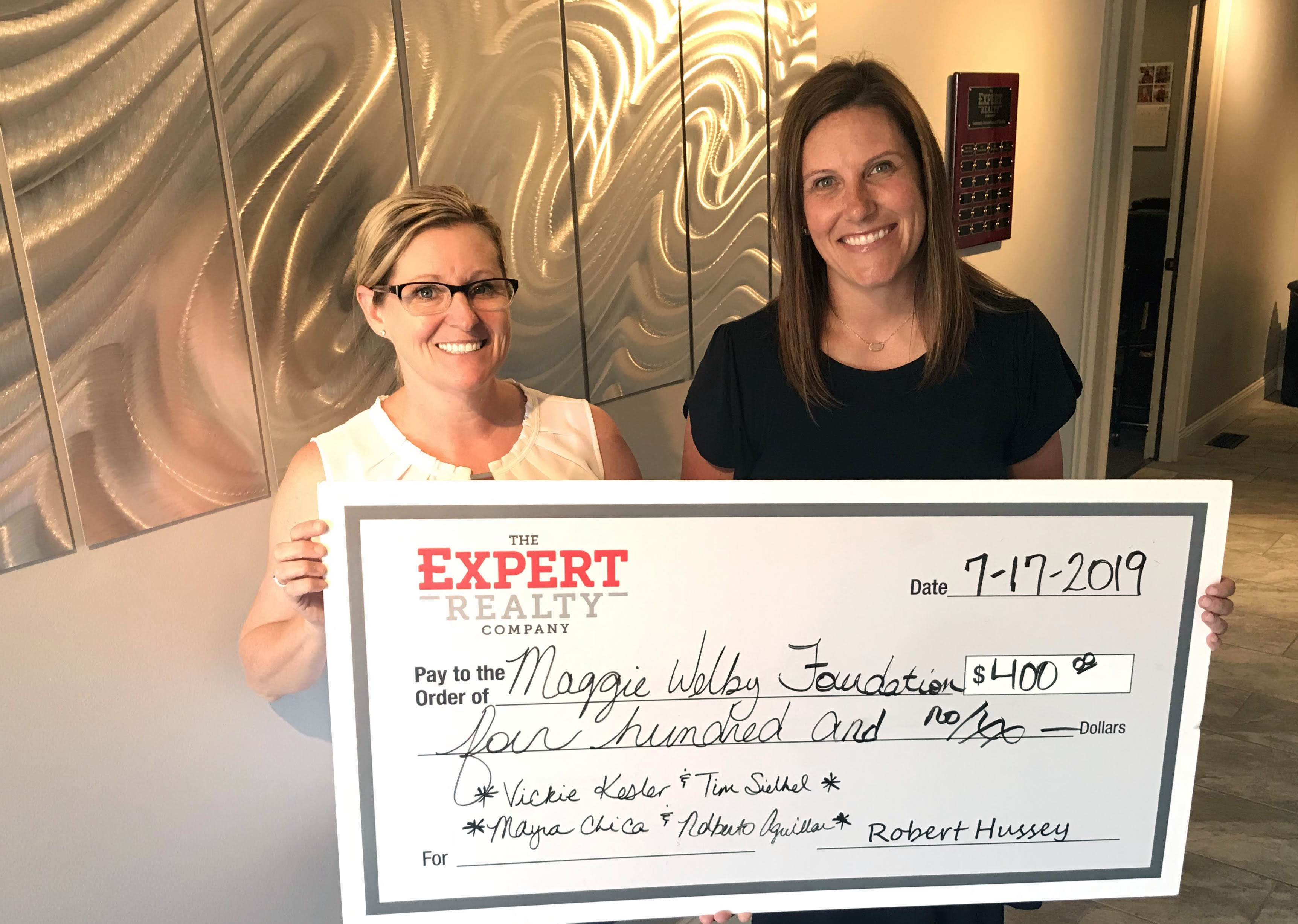 FOR IMMEDIATE RELEASE: Thursday, July 18, 2019
Media Contact: Heather Kemper-Hussey, p. 314.799.9292, e. hhussey@expertrealtyco.com, w. www.expert.realtor
PHOTO CAPTION: [LEFT TO RIGHT] On Wednesday, July 17, 2019, The Expert Realty Company (Karen Kopeck, Realtor) presented a $400 donation check to The Maggie Welby Foundation (Stacie Ballard, Board Member.)
Expert Realty Realtor Donates $400 to The Maggie Welby Foundation
ST. LOUIS METRO AREA – On Wednesday, July 17, The Expert Realty Company's Karen Kopeck presented a $400 check to The Maggie Welby Foundation. This organization was nominated to receive monthly donation by Expert Realty clients Vickie Kesler & Tim Seithel, and Mayra Chica for their efforts to seek to aid students (grades K-12) and families in financial need, in memory of the life of Maggie Welby, in order to help fulfill the dreams and hopes that Maggie realized in every person she touched during her life.
The Expert Realty Company, located in Lake Saint Louis, pledged to donate a portion of their monthly commission to a charity nominated by their clients.
"It's such an honor to be chosen to help a client in their next chapter of their life," stated Expert Realtor Karen Kopeck. "And it's an even bigger honor to be able to contribute to a charity they feel so passionate about."
The Expert Realty Company is a full-service real estate brokerage firm serving St. Louis metro area. Owner and Broker, Robert Hussey believes strongly in two things. First, providing expert realty service to their clients. And secondly, giving back to their community by supporting local charities. For more information, visit www.expert.realtor.
###