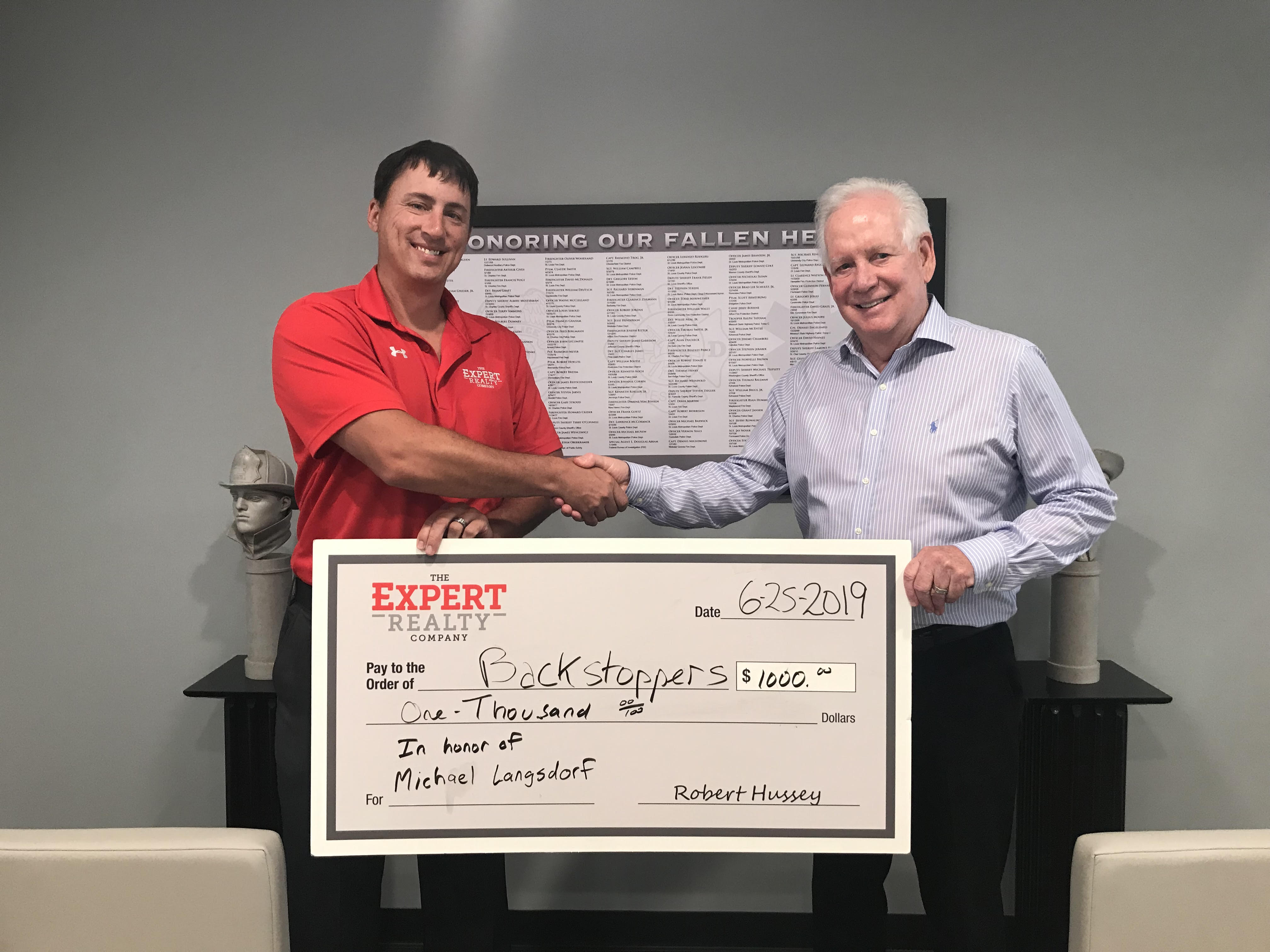 FOR IMMEDIATE RELEASE: Tuesday, June 25, 2019
Media Contact: Heather Kemper-Hussey, p. 314.799.9292, e. hhussey@expertrealtyco.com, w. www.expert.realtor
PHOTO CAPTION [FROM RIGHT TO LEFT]: On Tuesday, June 25, 2019, The Expert Realty Company (Rob Hussey, Owner/Broker) presented a $1000 check to The Backstoppers, Inc. (Col. Ron Battelle, Executive Director).
Expert Realty Donates $1000 to Backstoppers
ST. LOUIS METRO AREA – On Tuesday, June 25, 2019, Rob Hussey with The Expert Realty Company presented a $1000 check to Backstoppers. This organization was nominated by Expert Realty client Timothy Wortkoetter for the organization's efforts to support to the families of all police officers, firefighters and volunteer firefighters, and publicly-funded paramedics and EMTs who have lost their lives or suffered a catastrophic injury performing their duty.
"We are honored to do our small part in supporting the first responders of our community," stated Hussey. "Especially after the devastating loss of Michael Langsdorf a couple days ago. Our hearts and prayers to his family and loved ones."
Robert Hussey, Owner and Broker of The Expert Realty Company, pledged to donate a portion of their monthly commission to a charity nominated by their clients.
The Expert Realty Company is a full-service real estate brokerage firm serving St. Louis metro area. Owner and Broker, Robert Hussey believes strongly in two things. First, providing expert realty service to their clients. And secondly, giving back to their community by supporting local charities. For more information, visit www.expert.realtor.
###